A Luxury Villas complex
for Eternal Romantics
Metatulia is a complex of four magnificent modern villas ideally located on a hill slide with unobstructed stunning views of the sea and the surrounding area, a few minutes drive to the sandy beach, and 4.5 km away from the vivid Plakias area and its unlimited tourist attractions.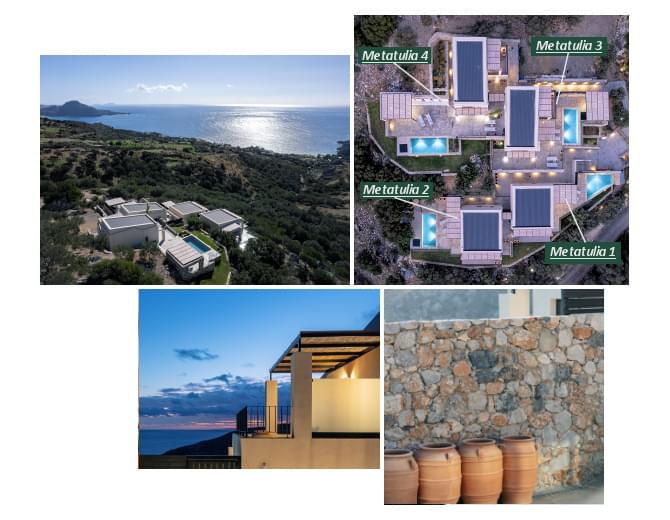 Four Seasons Experience
Houses are build with newest eco friendly materials. Particularly they have 45 cm stone-walls and an additional thermo-isolation.
The intention is to offer the best possible experience in all the different seasons of the year, from early April till late November.
Every room has its own advanced technology AC with minimum environmental impact.
Rooms are equipped with all different of linen and blankets in order to provide the maximum of comfort.
EXPLORE VILLAS
Plakias area
Plakias area is famous for its fantastic crystal clear waters and beautiful sandy beaches.
In Souda beach, there are many restaurants and traditional taverns while Plakias village is just a breath away and it offers a great variety of touristic attractions, ATMs, supermarkets, taverns, clubs, bars, and cafes.
The long Plakias sandy beach has various water activities.
MORE ABOUT PLAKIAS
RELAX & UNWIND
Metatulia Villas
TESTIMONIALS
Our Reviews
Walter
We had a such a good time at Metatulia. The apartment is modern, has a nice interior and offers everything you need. The outdoor area is unique: amazing views, great pool and a bbq grill which we used almost daily. Furthermore it is very private and quiet! Sifis welcomed us with fresh fruits and wine. He and his staff are super friendly people, left no questions unanswered and did everything to make us feel comfortable. Definitely a recommendation!
Airbnb - Metatulia 2
July 2022
Mohannad
This is place is so amazing. im so glad we found it!
This incredible Villa has a breathtaking view, its brand new, has everything you need and more!!! our stay was so perfect. The owner is so nice and welcoming, Thank you!
Airbnb - Metatulia 1
July 2022
Otieyeme
We spent a week on our honeymoon and it was just magical. Our host is very open and welcoming, we even had a special visit into town with him. We'll be back soon with friends. I would highly recommend it.
Airbnb - Metatulia 3
October 2022
Nicolas
Airbnb - Metatulia 4
September 2022
Anika
Fantastic place to stay with a perfect host!
We will be back!
Airbnb - Metatulia 4
November 2022
Eugenie
Perfect stay, amazing villa and really nice host. Very private and quite. Would love to come back again.
Airbnb - Metatulia 2
August 2022
Ola
Absolutely stunning location and villa. Everything was brand new, super clean and comfortable. The communication was great and service spectacular. We felt very well taken care of, but always had full privacy. We'd definitely recommend this place to anyone, and are already looking forward to coming back. The location gives a sense of a secluded escape but is actually just minutes away from being in town, and so near numerous beaches.
Airbnb - Metatulia 3
June 2022
Rosanna
We spend a very nice time in Metatulia 2. The view is magnificent, the house very beautiful and clean, the water in the swimming pool cleaned every morning, our host Sifis very kind and helpful and the privacy maximum, … we appreciated it all very much.
Airbnb - Metatulia 2
October 2022
Michael
The house is very beautiful. We had villa number 4 and it was absolutely private with a fabulous view, a lot of space outside and a great BBQ. The pool is very refreshing and the owner comes for maintenance every day. He is a great guy, very friendly and helpful. He will give you recommendations for very special day trips. However, you will definitely need a (rental) car. It's a 5 min drive to a nice beach just down the hill. Make sure you don't miss Preveli Beach which is 25 min away and which was a highlight of our round trip on Crete.
If you are looking for a quiet location in the south, the house is perfect. Enjoy the stars at night and a beautiful illumination of the house inside.
Airbnb - Metatulia 4
August 2022
Rhianna
I can't thank the my host Sifis enough, the villa was absolutely beautiful & he made me feel so welcome. Feel very very lucky to have found such a beautiful place to stay, booked a 5 night stay but could have stayed much longer cannot wait to go back! This will definitely be a regular for me now.
Airbnb - Metatulia 4
May 2022
Barbara
The house has a beautiful (luxurious) style, beautiful finish and, despite the fact that there are 4 houses, complete privacy. From the terrace you have a very nice view of the bay and sea, which are only 5 minutes drive. Great reception, very hospitable, the owner even comes to clean the pool and you will also get clean towels halfway through. In short, recommended!
Airbnb - Metatulia 3
August 2022
Heiko
We were from August 11th – August 15th 2022 in the accommodation and have enjoyed our stay very much!☺️The view is incredible and our host Sifis was very friendly and helpful! The villa is very modern, clean and has everything you need for a perfect and unforgettable stay. We will certainly come back and can recommend the accommodation 100%! SEE YOU SOON!
Airbnb - Metatulia 1
August 2022
Radovan
The place is amazing! For complete relaxing experience, the owner is super duper nice ! And such a flexible guy!
On the picture it seems like other villas can see you, the truth is they cannot, you have your own privacy!! Really nice pool as well! Everything that you pretty much need in a household, smart TV when you want to have a cozy evening after the sun and the swim 😁
I am most likely going back to Crete with my family in July and i will go there for 1-2 nights 😁love the bed btw i slept like a king ! Me and my girlfriend loved the place
Airbnb - Metatulia 2
May 2022
Oliver
We loved it. Design, tranquility, spaciousness and above all the insane service by the host!
Would book again anytime!
Airbnb - Metatulia 3
September 2022
Jonas
A lovely stay! Really nice location with stunning views and a steady breeze to cool you during hot summer days. Remote enough to enjoy some peace from busy Plakias but still close enough to get to a lot of different spots. Host and house keeping are super friendly, helpful and really dedicated to make sure you have a great time. Exceptionally clean!
Airbnb - Metatulia 2
July 2022
Sofia
The place was a dream! Host Sifis was super friendly and helpful. The view was also really beautiful, mountains and sea, what more could you ask for!
Airbnb - Metatulia 3
August 2022
Anne-Marie
What a great villa in a great location. Exactly what we wanted and needed. The villa was more than we expected, a real treat – very well equipped and decorated with a large outdoor space. We were nicely welcome by Sifis who throughout the stay was very helpful and attentive. Couldn't recommend more!
Airbnb - Metatulia 3
October 2022
Thomas
Amazingly beautiful place, great location, extremely friendly owner, it doesn't get any better.
Airbnb - Metatulia 2
June 2022
Jon-Gunnar
Really nice place, secluded, super view and great standard. fantastic service throughout the stay.
Airbnb - Metatulia 1
September 2022
Lene & Per
Staying at this beautiful villa, in such calm and gorgeous surroundings was just the highlight of a great trip to Crete. You will need a car in this area. It's a place great for couples but I wouldn't bring small kids.
Here you have it all, modern villa with great beds and all amenities, dreamy view and 5 min to a very nice beach, not too crowded and with a small handful of Tavernas dotted on the rim of the beach. The villa and pool was clean and cozy and Sifis is a great host- with whom you can enjoy a cozy chat- always ready to assist you.
We'll happily be back next year.
Airbnb - Metatulia 4
October 2022
Marielle
Everything was amazing, very friendly owner! The villa and the furniture looks stunning. The view is incredible. Fruits and juice is included!
We will come back for sure!
Airbnb - Metatulia 1
October 2022
Arthur
Excellent stay at Sifis, a perfect host and very available. The house is just perfect.
Airbnb - Metatulia 4
August 2022
Louise
Stunning place. Quiet location, beautiful house with a luxurious feel. Lovely views!
The house and outside pool area was large and private. We had a very friendly welcome and were given plenty of local information. Lots of attention to detail and a personal touch, we would definitely recommend staying here!
Airbnb - Metatulia 3
June 2022
Geri
Excellent. The house was spotless, with a nice view to the sea, with all the essentials (like electric iron, hair dryer, pool towels, robe), a fully equipped kitchen and washing machine. The bed was comfortable and the exterior was generally shaded. The pool is very nice and clean. We had a wonderful stay.
Thank you so much to Sifi for everything! We will definitely come back.
10/10!!
Airbnb - Metatulia 1
July 2022
Franziska
We had a wonderful stay. The apartment is breathtakingly beautiful and so are the views.
Airbnb - Metatulia 1
July 2022
Rachel
Amazing villa in a beautiful location with easy access to all that Plakias has to offer. Wish we'd stayed even longer!!
Airbnb - Metatulia 1
July 2022
Luke
The villas are brand new and very well kitted out, these are great luxury villas and we did not find anything was missing during our stay.
The views are incredible down towards the beach and ocean, from the bedroom, patio, pool and terrace. Villa 1 also felt very private with only a few spots that were overlooked by the villa behind.
The bed was very comfy (to our taste at least). The shower has good pressure and there were plenty of seating options inside and outside. The kitchen is well stocked with all the essentials.
The area and villa was quiet at night with no hotels nearby which is great too. It is also close to 2 towns with great restaurants, and the beach so perfect location for us.
I can't recommend this spot enough!
Airbnb - Metatulia 1
August 2022
Alessio
Wonderful place, Amazing host.
Airbnb - Metatulia 4
July 2022
Alexander
This exclusive villa is really lovely. Privacy is guaranteed. No one can look in this house or at the pool. The house is well equipped. We didn't miss anything. The view is brilliant. The ocean, the landscape, the mountains. We fell in love. Every day the pool and the barbecue is getting cleaned. Everything is very new and clean: house, towels, sheets. We would instantly come back to this beautiful place. Thank you!
Airbnb - Metatulia 2
July 2022
Karen
The place was design with taste and quality. We really enjoyed our stay! Definitely a five stats experience!
Airbnb - Metatulia 3
November 2022
Nafees
Cannot express how great of a Villa this is. From the views to the host to the local area (Plakias). Our host made sure everything was good ahead of our arrival and checked in on us daily, went out of his way to make us comfortable. The villa itself is 10/10, with every amenity available for your use. Cannot wait to come back.
Airbnb - Metatulia 2
July 2022